Fiber Internet is Simply Better
Better Speeds. Better Service. Better Value. Say goodbye to data caps and overage fees

Work and learn from home on multiple devices

Stream movies, music, and television

Stay connected even at peak usage hours
Go Faster!

We have tailored four different plans for your needs and budget. Our Basic plan is best for light web browsing and email use. The Starter Plan is great for 1 to 2 users. Our Family Plan clocks in at 250 Mbps and is best for multiple users and devices. Do you want the fastest internet available? Get a Gig and Get Going, enjoy unlimited streaming and gaming.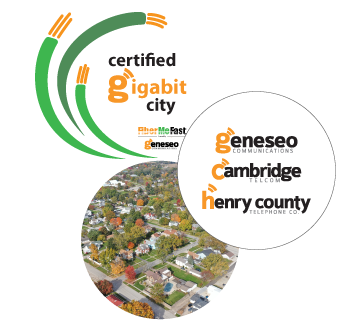 Get Fiber Internet
from a Local Company who's been Part of Your Community for More Than 120 Years
When you get connected with FiberMeFast, you get more than the fastest internet in the area. You also get friendly customer service and support from a local team who live, work and serve right here in your community.
FiberMeFast is a 100% fiber-to-the-home local internet provider within the IL/IA region and is powered by Geneseo Communications, Cambridge Telcom and Henry County Telephone Company out of Geneseo, IL. We want all of our customers to have access to the fastest internet technologies

Register Now
There is no obligation when registering, it just lets us know you are interested in getting Fiber Fast!