Streaming TV is Easy with Fiber Fast Internet
Geneseo Communications fast-fiber network makes it easy to stream video to your smart TV or streaming device with no data caps and no hassle!
Get all your favorite content without the need for traditional cable TV.
GET SET...Use a Smart TV or a Streaming Device
Already have a Smart TV? You're ready to go! Smart TVs are ready to stream right out of the box.
No smart TV? No worries! Install a streaming device, like a Roku or FireStick on older televisions.
Pssst…You can also stream through your computer, tablet or smart phone.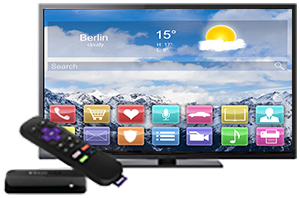 STREAM..Choose Your Streaming Providers
Next, decide what you want to watch. There are many streaming options and the right viewing experience is out there for you. To help you we have connected with MyBundle.TV. This free service will help you find the BEST streaming solutions based on what you watch. Just answer a few questions about your TV viewing interest, and they'll help you find the right fit.